On February 2nd, David Cage, CEO of Quantic Dream, gave an interview to Matt T.M. Kim, journalist for IGN.
Questionned about the toxic culture in the company, David Cage declared that "all allegations about our studio have been indisputably proven wrong by verifiable facts, independent audits, the French Labor Court, state agencies, independent journalistic investigations, and by our employees themselves ».
Truth is a little bit different.
In recent years, Quantic Dream has been the subject of several lawsuits following the cases of sexist, racist and homophobic photomontages. If the complaints received different verdicts, Quantic Dream has been condemned 3 times for « failure to comply with health and safety obligations ».
So why did David Cage lie on a widely read website?
In the past few years, Quantic Dream has been trying to get its public image under control:
– By taking legal action against the newspapers dealing with the case
– By suing its former employees, whistleblowers who dared to reveal the affair
– By suing Twitter to demand anonymity waivers on accounts that relay press articles against them
– By putting pressure on its former employees through increased surveillance on both professional and social networks
– By paying companies to modify the Wikipedia pages of Quantic Dream, David Cage and Guillaume Juppin de Fondaumière
– By attempting to discredit and pressure by filing a complaint against any union organization defending the employees of their industry.
The false declarations of the director of Quantic Dream are part of this same logic, silencing all dissident voices.
What is to be expected when David Cage goes further, declaring that « workplace issues that may arise are dealt with in a swift and professional manner." ?
It is unfortunate that Matt T.M. Kim lets David make these allegations without questioning them seriously.
It is also regrettable that, in order to talk about the toxic culture, Matt T.M. Kim prefered to question a member of the direction of Quantic Dream, rather than a worker who would have suffered these degraded working conditions imposed by his hierarchy.
Solidaires Informatique wants to warn Canadian workers about the work and communication practices of the company Quantic Dream. We lends our full support to the employees who are subjected to pressure and call on all those who would be the victims to contact us and join us to break the silence.
We are a union and we will always be on their side to defend them.
https://www.ign.com/articles/quantic-dream-founder-david-cage-discusses-new-montreal-studio-and-unannounced-game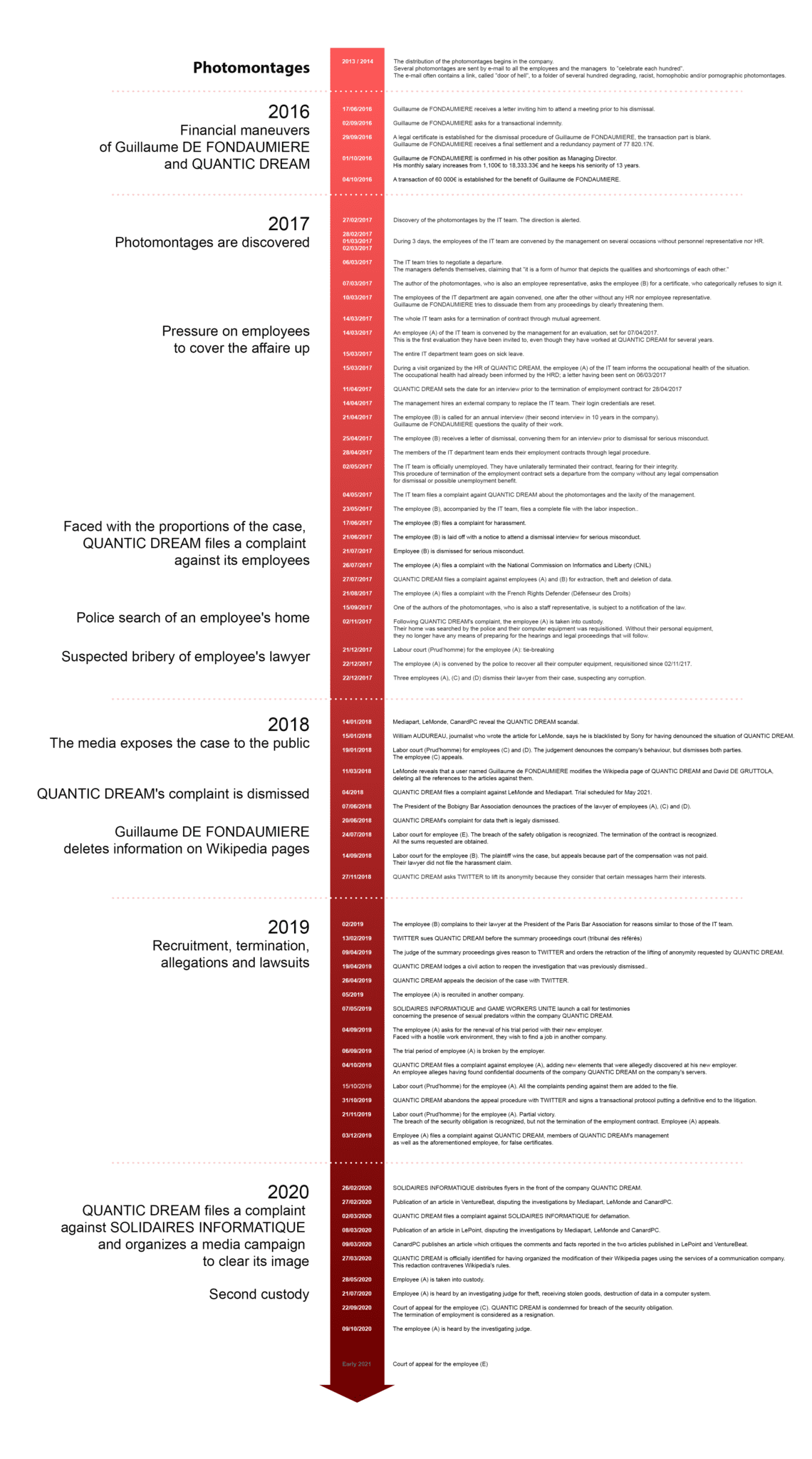 Download the PDF of the press release